Located on the Peninsula of Queen Elizabeth National Park, Mweya Safari Lodge overlooks the beautiful Rwenzori Mountains which is aptly described as 'the Mountains of the Moon'. If you want to live this unforgettable experience, you can find out more information about it here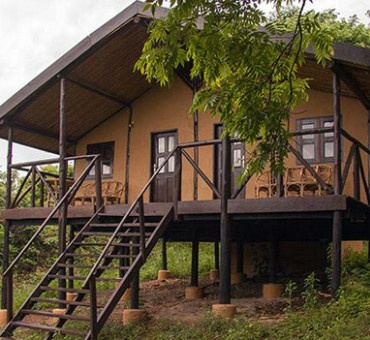 The Chimps' nest is a cozy lodge with a magnificent view of Kibale Forest. From here all 350 bird species of Kibale Forest can be viewed from the premises. The Chimps' nest is located near Kanyanchu, the starting point UWA chimp-tracking and other activities in Kibale Forest. Find out more information about this wildlife experience here!

Located on the south bank of the Nile River, Murchison offers a wide range of activities. Whether you want to explore the wildlife, go for a drive, go for a boat trip to the Murchison Falls, or wind down at the pool, there will be many activities available to you at your own leisure. You can find out more information about this beautiful place here!
Forest Cottages
Forest Cottages is a luxury hotel located in Uganda's capital city, Kampala. This hotel can provide you with peace and quietness among its beautiful green surroundings. The grounds also have a small forest wildlife sanctuary where you can spot over 20 bird species. For more information, click here.

Brovad Sands Lodge
Bovads Sands Lodge is a resort based in one of the Ssese Islands of Lake Victoria. This resort is ideal for a romantic or family holiday. There is much to do at Bovads Sands Lodge. You can enjoy long walks in the forest or on the beach, watch and listen to the many species of birds in the beautiful gardens and explore the island and see its spectacular scenery. The island is also teeming with wildlife and you will be able to see the monkeys playing around at the resort. The resort is based in Bugala island and from here you will be able to explore the rest of the Ssese Islands. For more information on this beach resort, click here.